Springbank Academy and Nursery is a place where all our children, staff and wider school community can excel in an environment where they feel safe, happy, and cared for. We are a school that is committed to providing a high standard of education for every pupil, and pursue excellence at every opportunity.
We see ourselves at the heart of the local community, in a partnership with parents and carers, offering excellence in education and helping the children to learn the core learning skills they will need for their future.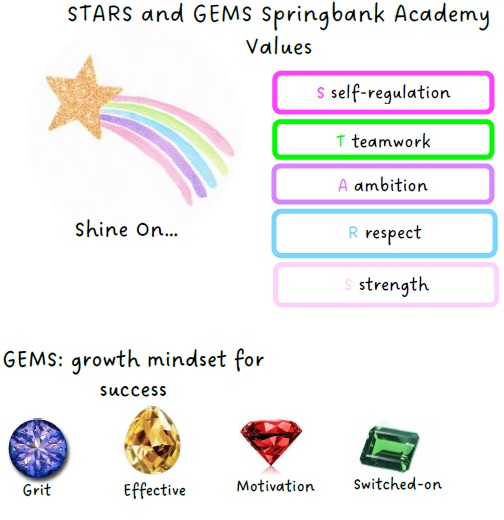 Our curriculum and values will inspire everyone in our school family to be motivated and curious learners, and offers the core skills, knowledge and enrichment to enable all to gain the foundations for a quality future and a love for life-long learning.
To the right is our STARS, showing the values important to everyone in school.
Springbank is a place where ALL of our children, staff and school community will be safe, happy and cared for. Our curriculum offers skills and enrichment so that EVERY child is able to gain the foundations for a quality future life and a love for life long learning.
Our motto "Where dreams are realised, and success is celebrated" sets out our mission for the school.
Our commitment to excellence in education and learning and our partnership with parents and the local community extends beyond the school day to include a number of extra-curricular activities before and after school. We believe learning isn't restricted to the classroom and that every child who comes to Springbank has an entitlement to a range of visits and experiences that enrich and enliven the curriculum. Outdoor learning, creative arts and being eco-friendly all form part of our teaching and learning programme.
Inviting visitors into school brings our children's learning to life. We are all learners in school and staff continue to learn too, keeping up with the latest developments in education, theory and practice, keeping their skills and knowledge up to date or developing their own potential through degree or master's degree courses.
Code of Conduct
Linked to our values and mission is our Code of Conduct. We ask all pupils, staff, and visitors in our school to:
Remember your manners
Show that you are a good listener
Respect others and their property
Be kind, calm and considerate
British Values
Springbank Primary School takes the promotion and practice of British Values seriously and recognises how they are integral to a working and self-sustaining learning environment where every opinion is considered and every voice heard; in other words a fair and free environment, a democratic environment. The principles of Democracy, the importance of the Rule of Law and the necessity of Individual Liberty and Tolerance are at the heart of all we do – they are integrated in to our curriculum,learning ethos and aligned to our own school STARFISH values. Here at Springbank, British Values are practised and thought about throughout the day.