Welcome
Welcome to Springbank Academy and Nursery, our website is designed to introduce you to our remarkable Springbank community. Visitors often comment on the special atmosphere they find here. It is a friendly and welcoming place where pupils feel secure and supported – the perfect environment for learning. We encourage all our children to think creatively, set themselves high standards and to work hard to achieve their full potential.
Our school is at the heart of the community in Eastwood. We welcome participation by parents and carers in all aspects of school life and we look forward to working in participation with you. No one knows your child better than you, and for this reason we very much value your
co-operation.
At Springbank Academy we strive to maintain consistently high standards and to nurture talents and strengths so that every child can achieve success. We work to develop an excitement and enthusiasm for learning which we hope the children will take with them through their lifetime. We strive to make the world a richer place by promoting high standards of behaviour and learning.
Our school motto, 'Happy, Healthy, Caring, Sporty and Scientific' encapsulates our approach and the belief and value we place in every single one of our children.
If you would like to find out more, I would be delighted to show you around so that you can see the school in action. Please contact the office to make an appointment – I look forward to seeing you.
Mr Adam Lumley
Headteacher
Message from the Head Teacher - 08.03.2023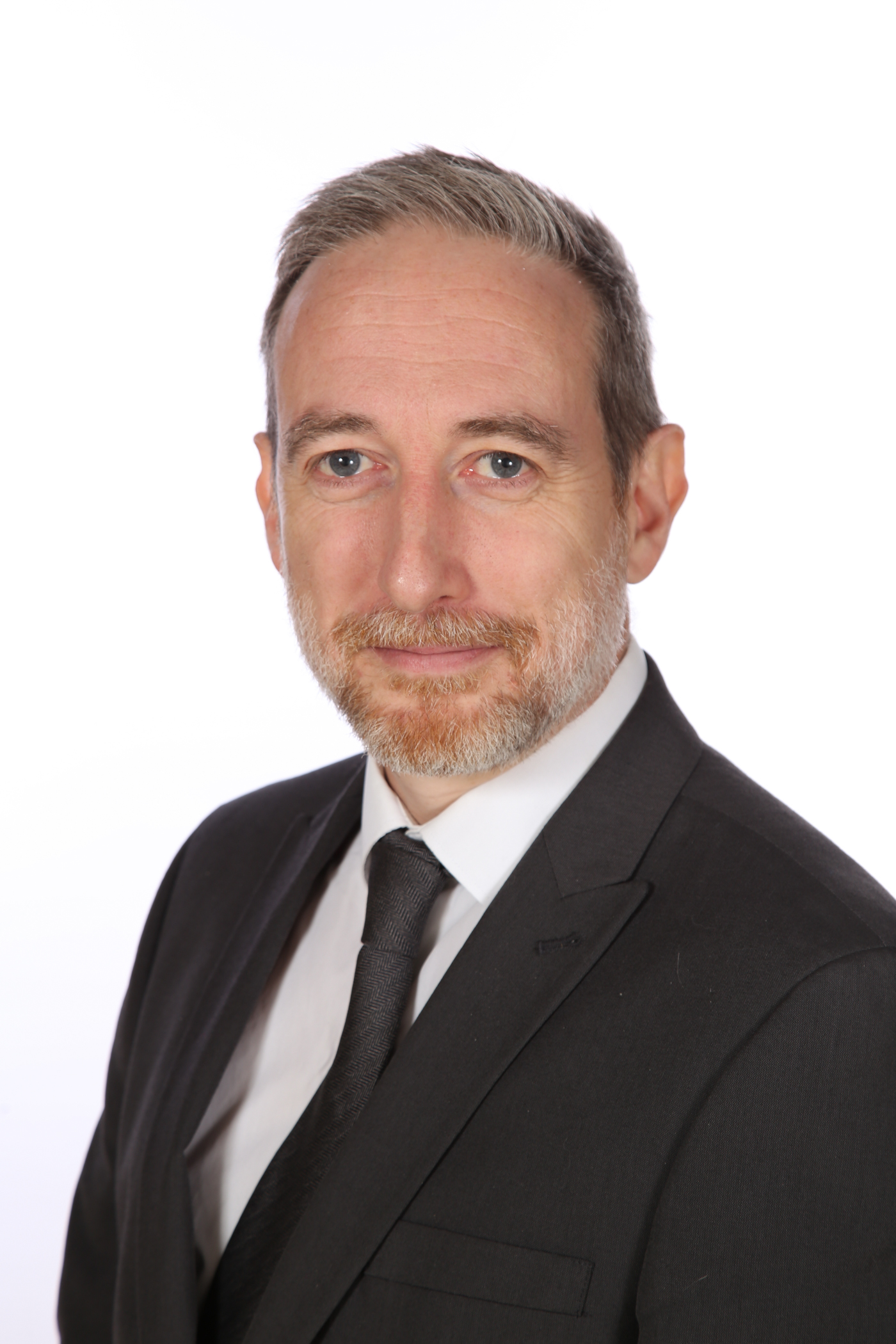 We are very proud to announce that we have received the Artsmark Silver Award.
The Artsmark Award is the only creative quality standard for schools, accredited by Arts Council England. It supports schools to develop and celebrate arts and cultural education, putting creativity and wellbeing at the heart of the curriculum. Artsmark ensures every young person can be creative and access a diverse, high-quality cultural education.
We look forward to continuing to develop our Arts curriculum and giving the children further opportunities to be creative and showcase this within the community.

A new feature of our newsletters will focus on online safety. We will be signposting you to any relevant websites or articles we feel may be of benefit to you and your child. We hope this will support you in keeping your child safe online.
A useful website you could share with your child is child net https://www.childnet.com/
How the outdoors can aid children in learning important skills
needed for self-regulation.
Self-regulation is all about a persons' ability to tolerate any situation they find themselves in: how they manage their emotions and reactions, regulate their behaviour and their body movements when faced with a situation that they may find difficult.
It's the thing that allows us to manage ourselves in day-to-day situations and to do so while remaining focused and attentive.
Look at it that way, and you can see why self-regulation can be so tough for some children!
Outdoor play by its nature is an excellent self-regulation activity.
Self-regulation is a bit like having an internal gauge. Just like a central heating system, where a thermostat keeps track of temperature and turns the system on or off to maintain optimum conditions, our bodies have a "set point" where we're able to manage behaviour and emotions appropriately.
Self-regulation is all about finding that set point. Keeping track of changes in our environment or circumstances.
Processing information, recognising, and assessing how we're feeling and reacting and knowing what to do, what changes we might need to make to stay as close as possible to be calm and happy.
Being outside is particularly valuable for children who have sensory processing issues and/or ADHD, children on the Autism Spectrum and children with Asperger syndrome.
At Springbank this can look different for different children depending on their needs, some like to feel the different textures of the natural world under their bare feet. Others like to take themselves away from the adults and other children they share a classroom with to have some time to just watch the world around them, sometimes they like to lie under a tree to do this, whereas others like to run around the same path repeatedly. One of the children's favourite self-regulating activities at the moment is moving logs and branches around the area this 'heavy work is helping children with sensory processing issues feel centred and become body aware. This self-regulating behaviour is often encouraged and is always supervised while allowing the children the space they need to regulate.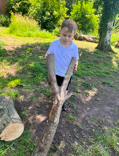 .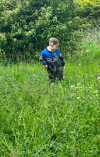 .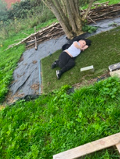 .