Welcome to our Nursery at Springbank Academy
A great place to play and learn!
Places available for September!




Please see below or contact us for more information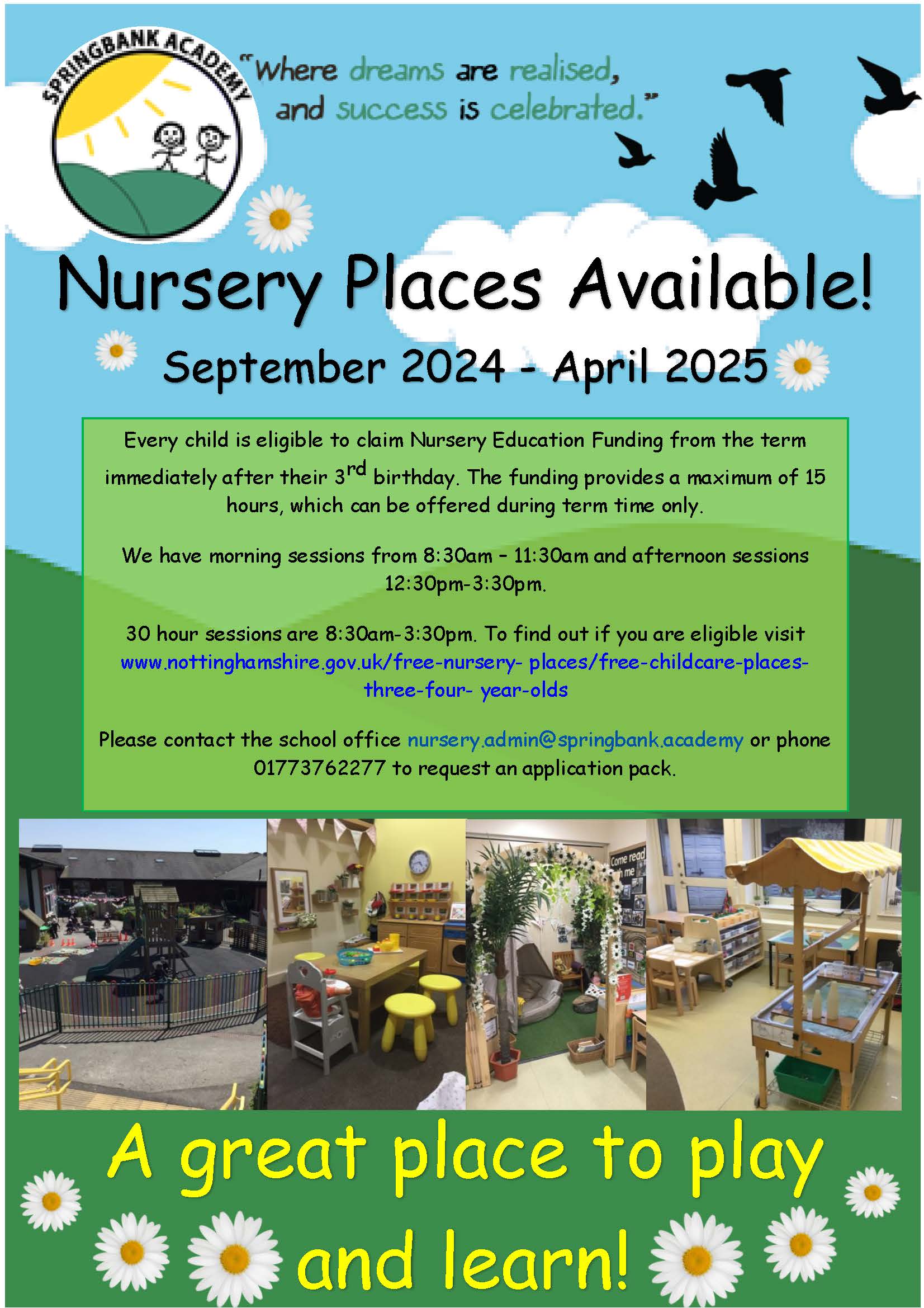 We provide a safe, happy, stimulating, and friendly environment for children to feel part of our Springbank family and to give them the best possible start to their Nursery experience. We encourage children to become confident, independent learners, who are curious and ready to investigate the world around them.
Our session times are:
Morning 8.35-11.35
Afternoon 12.45-3.45
30-hour childcare 8.35-3.45 (a payment for dinner is required)
To arrange a visit to view the Nursery or enquire about extra Nursery sessions please email This email address is being protected from spambots. You need JavaScript enabled to view it.
;
Help with Childcare
Every child is eligible for free Nursery education from the term immediately after their 3rd birthday. Government funding provides a maximum of 15 hours per child, which can be offered during term time only. Some parents are eligible for 30 hours free childcare; you can check your eligibility and find more information using the links below:
30 Hours Free Childcare - Check your eligibility
To find out if you are eligible for 30 hours free childcare, visit the link below:


gov.uk/apply-30-hours-free-childcare
Childcare Choices - Government help with childcare costs for parents.
Whether you have toddlers or teens, you could get support. Please click on the link below for information to help inform your childcare choices.


childcarechoices.gov.uk
Nottinghamshire County Council - Help with Childcare
Information on the different levels of funding available, providers, and other frequently asked questions about childcare in Nottinghamshire:


nottinghamshire.gov.uk/care/early-years-and-childcare/help-with-childcare
Applications
Our application form is below, together with the form to fill out to claim 30 hours free childcare if you are eligible and have received your code from the government.
If you struggle accessing of filling in the forms, please get in touch with us